1.Welcome to Furano - A Summary of Furano City
---
The agricultural city of Furano is situated in central Hokkaido, in the southern part of the Furano Basin, with the active volcanic Tokachidake Mountain Range flanking the east side, and Yubari Mountains towering on the west. To the north is Nakafurano and Kamifurano and to the east Minamifurano, with Ashibetsu on the West. Furano encompasses approximately 600.71㎢, 70 percent of which is covered with Tokyo University Hokkaido Research Forests as well as national forests. Due to inland climate, the difference in temperatures is extreme with the highs being anywhere around 36.3℃ (approx. 97.34 ℉), with the lowest temperature on record at -34.5℃ (approx. -29.00℉).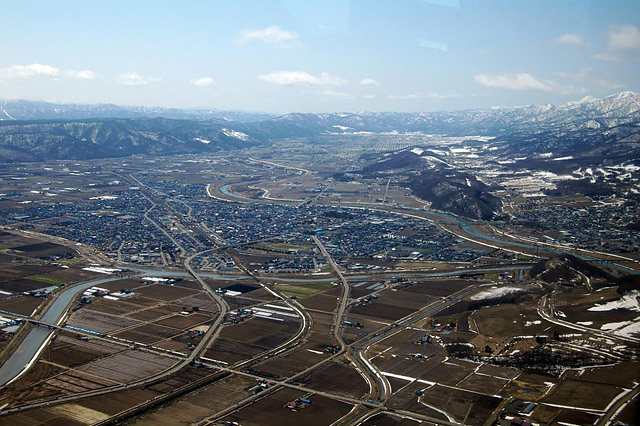 A birds-eye view of Furano from north to south (photographed April 24, 2005)
Downtown Furano is at the northern end of the city, where government offices, banks, stores, and eateries crowd together, as well as a newly developed residential area nearby. Vast farmland of onions, carrots, and other vegetables surrounds the city, with a resort area on the northside of the Sorachi river that includes a ski slope, hotels, B&Bs, and condominiums. Upstream on the Tokachi River, farmland stretches across the towns of Yamabe and Higashiyama. Gently undulating pastoral landscapes spread over Rokugo and Furebetsu districts, near the foothills of the Tokachidake Mountain Range. Viticulture, a prominent industry in the area, brought about the production of the vogue "Furano Wine."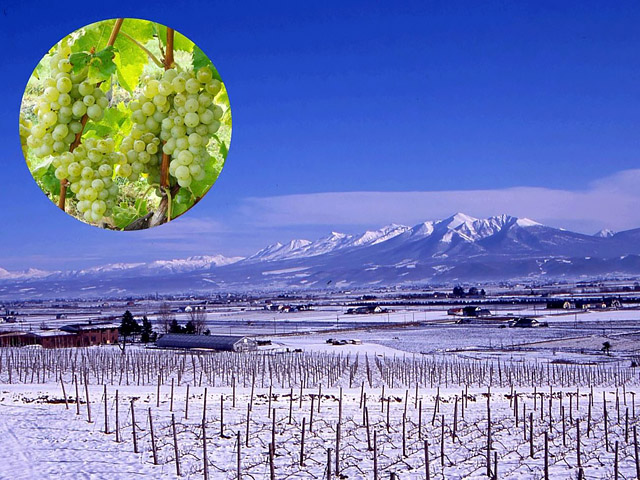 Vineyards and the Tokachidake Mountain Range
Due to its location in the center of Hokkaido, if Hokkaido were compared to the human body, Furano would be right in the midsection where a person's belly button would be. So, in 1969 (Showa 44), the residents of Furano came up with a brilliant and unique festival called the "Hokkai Heso (belly button) Festival," which is held each summer and is enjoyed by locals and visitors alike.
Hokkai Heso Festival 2019